For binding booking of tours please fill the attached Tours Form and fax it to Conference Partners Ltd.
Fax No.: +420 224 261 703 or +420 224 262 109.
Do not send information on your credit card by e-mail.
---
TOURS LIST

All tours are guided by English speaking guides. All prices are per person including VAT and the pick up of the guests. All tours starts at the hotels of the participants or from the Symposium Venue due to the pre-appointment with the guests and our agency.



Daily at 09.30 – 13.30, 13.00 – 17.00
Grand City Tour Prague (4 hours)
Price: EUR 18

<![if !vml]>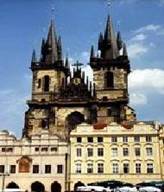 <![endif]>

During this tour you will get to know more about the rich and historical background of Prague, and its highlights. Your impressions will be enhanced by a walk through the Old Town Square where you will be able to admire the Astronomical Clock and the gothic church of Our Lady of Týn. You will also be shown around Prague Castle, the Old Royal Palace and St. Vitus's Cathedral. This tour includes all the historical districts of the city with their famous monuments and impressions of the ancient Jewish Quarter Josefov.

Daily at 09.30 – 12.00, 13.00 – 15.30, 15.30 – 18.00
City Tour Prague (2,5 hours)
Price: EUR 15

<![if !vml]>

<![endif]>The object of this tour is to make you acquainted with the city's historical district and its remarkable monuments in a short time. You will be able to see the most impressive landmarks, such as the National Museum, the Wenceslas Square, the National Theatre, Charles Bridge, the Old Town Square, the Lesser Town with its beautiful baroque churches and palaces. The tour will include a walk of about 45 minutes through Prague Castle and its grounds.
Daily 13.00-18.00 – except on Mondays
Tour to Kutná Hora (5 hours)
Price: EUR 26<![if !vml]>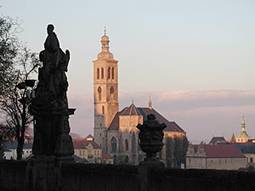 <![endif]>
Due to the prosperous silver mines Kutná Hora became, after Prague, the second most important town of the Bohemian kingdom in the Middle Ages. Its increasing wealth and prosperity led to the rich architectual development of the town and gave rise to St. Barbara's cathedral, palaces - Italian Court with Royal Mint, buress houses and churches, The Stone House and other gothic and renaissance monuments also date from this period. Kutná Hora was declared a world heritage site and has been protected by UNESCO thereafter. On request you can also visit the Ossuary.

Daily at 08.30 – 15.30 except on Mondays
Tour to Konopiště Castle and Karlštejn Castle (7 hours)
Price: EUR 56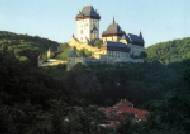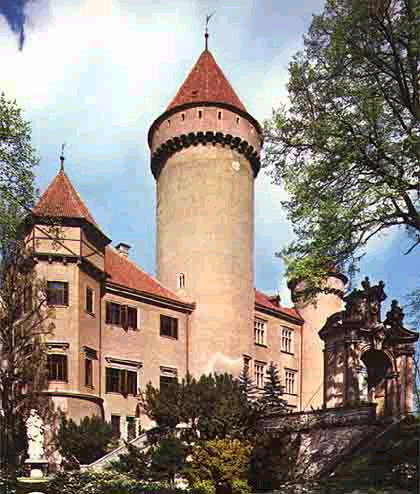 KONOPIŠTĚ: This part of the tour will take you to one of the most noteworthy castles close to Prague, the lovely hunting castle Konopiště built in the 14th century and rebuilt in the 19th century. It houses fascinating collections of historical weapons, furniture, paintings and tapestries. KARLŠTEJN: The second part of the tour will take you to the imposing medieval castle Karlštejn. It was founded and built by Emperor Charles IV. between 1348 - 1355 AD. as a depository for the Empire's coronation jewels and state documents. This large gothic castle is situated about 38 km southwest of Prague. After a guided tour helping you to become acquainted with its history, you will return to Prague. Lunch is included.

Only on Wednesdays 08.00 – 18.00
Tour to Hluboká, Holašovice and České Budějovice (10 hours)
Price: EUR 58
<![if !vml]>

<![endif]>Despite its medieval origin, Tudor gothic is the main feature of Hluboká castle. It emphasizes the charm and romanticism of this white dream-like castle, a little Windsor! It is surrounded by a large English park. Its lavishly decorated interiors, period furniture, weapons and unique Flemish tapestries attract thousands of visitors every year. Our trip continues to Holašovice - a typical Czech village famed for its unique rustic Baroque architecture. Before returning to Prague we shall also visit České Budějovice, a former royal town founded in the 13th century. The famous beer Budweiser has been brewed there for centuries. Lunch is included.
Daily at 08.00 – 17.30
Tour to Karlovy Vary Spa (9,5 hours)
Price: EUR 45



This is a renowned spa town located in western Bohemia which gained its reputation by the discovery of natural hot mineral springs. The history of the springs originates in the Middle Ages. The waters are used to treat all the kinds of disorders. Today there are 12 hot springs in use here and you can drink from them. The best known spring called Vřídlo ejects its curative water to the height of 17 m. We will start with the glass exhibition of the Moser factory. After lunch you will be shown around the spa centre.